Melanotaenia klasioensis (male) - photo© Laurent Pouyaud
---
Kadarusman, Hadiaty & Pouyaud, 2015
Klasio Creek Rainbowfish

Species Summary
Melanotaenia klasioensis have an overall body colour of dark mauve; brown dorsally; lateral flanks mauve on upper half and yellowish on the lower half; belly whitish; a continuous dark green midlateral line of 1 scale wide (2 scales on caudal peduncle) and sometimes interrupted on anterior part by 1-3 vertical bars (never exceeding 5 scales in length); pectoral fins translucent with black rays; pelvic fins yellow; anal fin overall dark with black rays separated by red hues; dorsal fins black with a marked white or red margin. The colour pattern of females is less vivid. Males are deeper bodied than females and have second dorsal and anal fins more elongated posteriorly. The species was named klasioensis, with reference to the creek name at the type locality.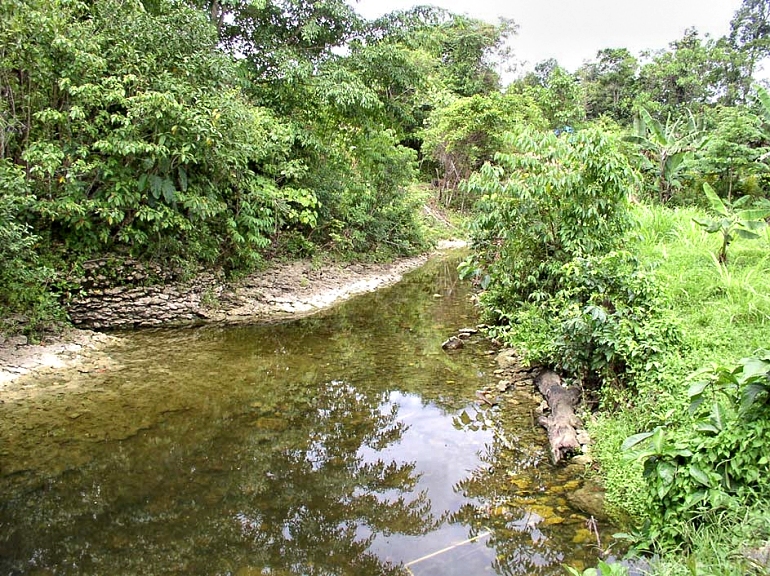 Klasio Creek habitat


Distribution & Habitat
Melanotaenia klasioensis is currently known only from the Klasio Creek. Klasio Creek is a karst resurgence of less than 5 metres width with a course of a few kilometres before disappearing in a subterranean outlet probably connected to the underground course of the Fasin River. The habitat in the vicinity of Malabolo Village consisted of a crystal clear stream, relatively shallow (up to about 1 metre), and flowing over white sand and limestone boulders in secondary forest.


Literature
Nugraha M.F.I., Kadarusman, N. Hubert, J.C. Avarre, R.K. Hadiaty, J. Slembrouck, O. Carman, Sudarto, R. Ogistira and L. Pouyaud (2015) Eight new species of Rainbowfishes (Melanotaeniidae) from the Birds Head Region, West Papua, Indonesia. Cybium 39(2): 99-130.


Adrian R. Tappin
July, 2015

---