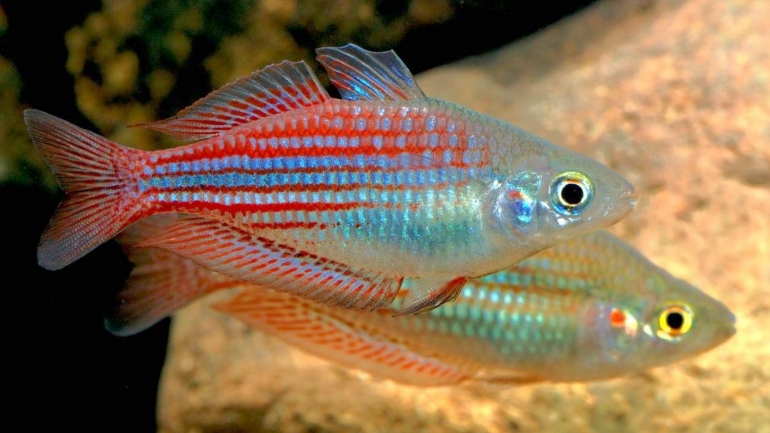 Melanotaenia utcheensis - photo© Gunther Schmida
---
McGuigan, 2001
Utchee Creek Rainbowfish

Species Summary
Melanotaenia utcheensis has an overall body colouration of silvery-white, often with a faded orange colour near the midline. The head and gill region is silver to pink and fish often have a reddish cheek patch. Scales have a bluish iridescence, especially on the upper half of the body. There is an orange stripe between each horizontal scale row. The mid-lateral band starts dark at the tail and fades forwards, tending towards blue in males and black in females. Anal, dorsal, pelvic and caudal fins range from translucent to deep red, being most strongly coloured in males. The anal, second dorsal and pelvic fins often have black margins, especially in males. Pectoral fins are translucent. Males tend to be more brightly coloured than females. Males are also deeper bodied and have longer pelvic, dorsal and anal fins.

Genetic studies beginning in the mid 1990's revealed the existence of significant genetic variation between populations of M. splendida that occur in the upland streams of north Queensland. In particular, these studies highlighted the degree of isolation of upland populations from the lowland populations. Subsequent genetic research suggested that at least some of these species were unusual variants of M. splendida - or populations displaying genes that have traits of more than one species. As a direct result of some of this research, M. utcheensis was described as a new species in 2001.

M. utcheensis is morphologically distinct from the broadly sympatric M. eachamensis and M. splendida. In particular, M. utcheensis has more first dorsal spines and fewer vertical scale rows and anal rays than M. splendida, and fewer soft second dorsal rays and more pectoral rays than M. eachamensis. M. utcheensis is also generally smaller than either M. splendida or M. eachamensis and intermediate between them in eye diameter, predorsal length, head depth and body depth.
Distribution Map
Distribution & Habitat
M. utcheensis have been collected from the Utchee, Fisher, Rankin and Short creeks, plus an unnamed creek, in the North and South Johnstone River catchments in north Queensland. They have been found in sites with moderate to high water flow over cobbles and boulders. The Johnstone River flows into the Coral Sea near the north Queensland town of Innisfail. The river branches about 5 km from the mouth into the North and South Johnstone Rivers, both of which have their sources on the Atherton Tablelands. Rankin and Fisher Creeks flow northeast into the lower North Johnstone River. Short Creek and an unnamed creek are in the upper North Johnstone a little bit upstream of Gillies and Dirran Creek and they enter from the opposite side of the river. Utchee Creek feeds into the South Johnstone River on the coastal plain upstream of Innisfail. M. utcheensis may also occur in Ithica River and Gillies, Williams, Tregothanana, and a number of other creeks in the North and South Johnstone Rivers. Melanotaenia utcheensis also co-occurs with the more common M. eachamensis in the Bromfield Swamp. Distinct genetic stocks of M. utcheensis, otherwise restricted to the Johnstone River, have also been recorded from two locations in the upper Barron River. Whether this taxon is native to the Barron River is debatable.
Melanotaenia utcheensis (North Johnstone River) - photo© Gunther Schmida

Literature
Flint N. (2005) Sublethal effects of diel fluctuations in dissolved oxygen saturation on freshwater fishes from tropical Queensland. PhD thesis, James Cook University.
McGuigan K.L., D. Zhu, G.R. Allen and C. Moritz (2000). Phylogenetic relationships and historical biogeography of melanotaeniid fishes in Australia and New Guinea. Marine and Freshwater Research 51: 713-723.
McGuigan K.L. (2001). An addition to the rainbowfish (Melanotaeniidae) fauna of north Queensland. Memoirs of the Queensland Museum 46: 647-655.

Adrian R. Tappin
Updated April, 2013

---