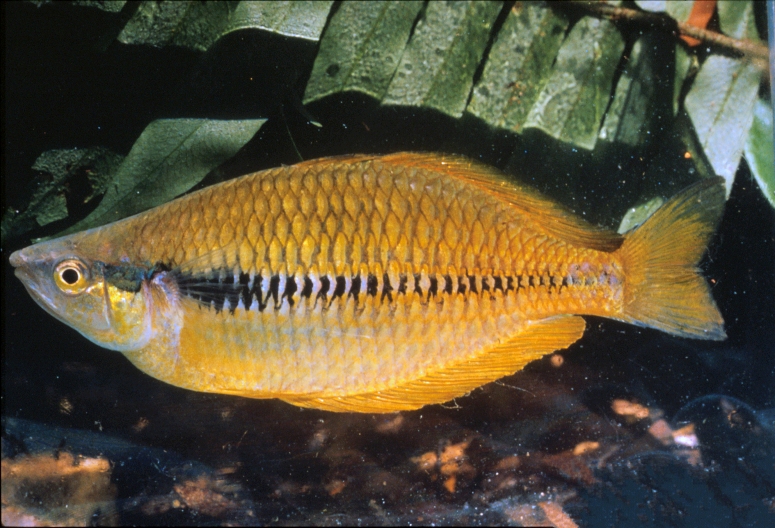 Melanotaenia angfa (male) Kurumoi Creek - photo© Gerald Allen
---
Allen, 1990
ANGFA Rainbowfish

Species Summary
Melanotaenia angfa are bright yellow (including fins) with a narrow midlateral band, which is interrupted along its length by narrow yellow streaks. They grow to a length of around 13-cm, males are usually deeper bodied than females. Melanotaenia angfa was named "angfa" in honour of the Australia New Guinea Fishes Association.


Distribution & Habitat
Melanotaenia angfa have only been collected from Kurumoi Creek, about 12 km north of Yakati Village and Pondok Creek, near Lake Kurumoi, both in the Yakati River system of West Papua. The Yakati River is located in the Bintuni Bay region between the Vogelkop Peninsula and the remainder of West Papua. Both streams are characterised by slow to rapid-flowing water with rock or sand bottom and minimal aquatic vegetation.

The region contains a number of river systems that empty into Bintuni Bay and include the Wasian, Muturi, Bokor, Tirasai, Sumber, Kodai, Rarjoi, Kamisayo, Tatawori, Sorobaba, Yakati, Yensei, Sobrawara and Naramasa Rivers. Most of these rivers are fast-flowing during the wet season, particularly in the upper part of the rivers, sometimes causing flooding. During the wet season the colour of the water turns brown from soil erosion. Some rivers always have flowing water, while others are dry and only flow during the wet season.


Remarks
In 1989, Gerald Allen participated in a conservation survey of the Bintuni Bay region, the large gulf that serves to isolate the Vogelkop Peninsula from the remainder of New Guinea. Although the work mainly involved brackish and marine fishes, he had the opportunity to make several freshwater collections there and also in the vicinity of Manokwari and Sorong, in the northeast and western region of the Vogelkop Peninsula. These collections resulted in the discovery of three new species, Melanotaenia angfa, M. arfakensis and M. parva.

M. parva are closely related to M. angfa. Gerald Allen's first impression was that they may have been a variety of M. angfa. However, there are significant differences regarding the number of first dorsal fin spines, soft rays of second dorsal and anal, and scales of the cheeks.




Melanotaenia angfa (male) Pondok Creek - photo© Laurent Pouyaud



In 2008, specimens were collected from Pondok Creek, a small creek (4-5 m wide) flowing westward to the Yakati River and situated 2 km south of Lake Kurumoi. The stream was slow-flowing in dense forest over gravel and limestone boulders. In 2009, specimens thought to be M. angfa were collected in the Naramasa River. The Naramasa River flows into the Gulf of Bintuni, just opposite the mouth of the Yakati River (type locality of M. angfa). Males were a beautiful golden yellow with some blue scales in the region of the lateral line.

Live specimens were collected by Heiko Bleher in 1999 and distributed in the aquarium hobby.


Literature
Allen G.R. (1990) Les poissons arc-en-ciel (Melanotaeniidae) de la Péninsule de Vogelkop, Irian Jaya, avec description de trois nouvelles espèces. Revue française d'Aquariologie 16(4): 101-112.

Allen G.R. (1994) The ANGFA rainbowfish. Fishes of Sahul 8(3): 374-379.



Adrian R. Tappin
Updated April, 2013

---